You know how we Indians love and honour our women? Oh, you don't? Well, we Indians love and honour our women. Don't take it from me. Take it from our moral guardians.

What moral guardians? Oh, there's no shortage of moral guardians in this country. It's lousy with moral guardians, whether Hindu, Christian, Muslim, Sikh or whatever. You can't throw a stone without hitting a moral guardian, who will then wax wrathful and throw ten thousand stones at you.
So, yes, we do love and honour our women. A classic example how much we love and honour them was this little episode today where a fifteen-year-old girl in the state of Bihar had one of her eyes shot off because someone wasn't happy with a shave.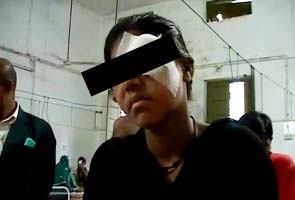 Now this kind of demands an explanation, so in brief, this is what happened: the girl's father is a barber. She was in his barbershop when a couple of characters, at least one of whom was known to the father by name, entered. Apparently the guy wasn't happy with the quality of the shave the barber gave him, so the two of them began beating him up. When the girl intervened, they grabbed her dupatta (a shoulder wrap). And, when she turned to look at them, they shot her in the eye.
On many levels, this is a perfect illustration for the dysfunctionality of modern Indian society. First, of course, is the reaction of the character who didn't get the shave he wanted: his immediate recourse to violence is something Indians are very familiar with. We love to maintain a national myth of being peace-lovers, but in reality we're an extremely violent people with incredibly short fuses, especially when our tempers are exacerbated by the pressures of modern city living (and I'm not excluding myself either: I plead guilty to recurrent road rage).
So, not being happy with the way his beard was handled, our anti-hero's first reaction was to lash out – quite literally. And then, when the girl tried to stop him, his second reaction was to assault her instead.
You see, we love and honour our women so much that they bear the brunt of physical and mental assaults, rapes and molestation, day in and day out. Only a few weeks ago there was a case in Guwahati, just a hundred kilometres from here, where a mob stripped and assaulted a teenage girl in full view of TV cameras, and that was in the heart of a large city. In the small towns and villages, women are beaten, raped and worse, probably many times a day.
And then, let's not forget the gun. I've given up arguing gun ownership with Americans, and come to the conclusion that they can own as many hundred guns each as they want as long as they keep their love for firearms within their own borders. But there's an Indian gun lobby, too, which draws its inspiration from the American, which tenaciously tries to propagate the myth that gun ownership is a good and desirable thing, and which claims that Indians have been systematically disarmed by tough gun laws.
Now, although gun permits aren't as easy to come by in this country as in some other nations (the state I live in, for example, doesn't give out gun licences unless one can prove one's life is under threat, which means in practice that it does not hand out gun licences), in absolute numbers it has one of the highest gun ownership levels on earth. Some of these guns are illegal, made by gunsmiths on the sly, but a large number of the firearms in the hands of private citizens are obtained legally with official permits. Now, what do you suppose happens when people have short-fused tempers and guns ready to hand, and a woman to use them on?
Someone gets shot, that's what.
I suppose one might say the teenage girl in Bihar was lucky in a way. At least she's only lost one eye. A few years ago, there was an infamous occasion in Delhi where a celebrity bartender (a model named Jessica Lal) was shot dead in front of a roomful of people (among whom was Steven Seagal, as it happens) by someone called Manu Sharma because she told him the bar was closed and he was too late to get a drink. Since that roomful of people developed collective amnesia, it took years to bring the culprit to book. And there have been many other cases, with women high on the list of victims.
And, yes, I've been threatened with physical harm more than once. If one of those people had a gun to hand, I can't answer for what might have happened. And if I'd had a gun, I might have used it pre-emptively, as well.
Not that any of this addresses the root cause of the problem, though. With mounting overpopulation, stress and social breakdown, the girl in Bihar will soon be just a statistic.
For the moral guardians none of that matters. Nor does it matter when girls are selectively aborted or murdered as soon as they're born. Woe betide any unmarried couple seen holding hands in public, or kissing, though.
That matters, very much. Then it is the end of the world, unless someone's taught a lesson.
And if that someone's a woman who winds up dead, that's just too bad.